Posted by The Noise Comments Off on The Story Behind "Echo Bubble Overdrive"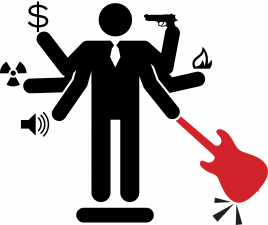 The Parkdale Hookers International Inc. (a.k.a "The Parkdale Hookers") is a Toronto-based business conglomerate, hedge fund and alternative rock group. The group formed in 2001 with the founding members, Noise (Chief Marketing Officer), Mark Jeftovic (CEO) and ex-Landslide drummer Dan Miles.
After Miles left the group in 2004 to take a position in Jim Flaherty's Ministry of Finance, Mark C replaced him on drums. MC has recently stepped back to spend more time with his family.
In 2005 the group released Polyester Fire Starter, a 5-song EP that was released under a Creative-Commons License.
In 2010 tPH entered the novelty song space with their release of "Have A Parkdale Hookers Christmas Time", which was featured on CBC and elsewhere and has become a perennial favorite among bohemians and disaffected families around the holiday season.
Echo Bubble Overdrive is the long-awaited follow-up album to PFS. Recorded at Toronto's Vespa Music Studio, the 7-song EP was engineered by none other than Juno Award winner Eric Ratz (Billy Talent, Big Wreck, Cancer Bats) over the period of 2011-2013. It was mixed at Jukasa Sound Studios by Nick Blagona (The Police, Deep Purple, ALEXISONFIRE). Ratz also mixed the lead video for EBO "MultiMedia World". continue
Posted by The Noise Comments Off on Mixing the new CD – Day 1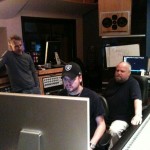 So Mark J and myself drove up from Toronto on a rainy Sunday morning. Mark C wasn't able to come along due to scheduling conflicts but will be there in sprit if not in Skype.  Jukasa studios are located deep within The Six Nations Indian Reservation in Southern Ontario. A location whose beauty I didn't realized till I walked over to the small restaurant across the street this morning. continue
Posted by The Noise Comments Off on Download free your Christmas punk favourite: Have A Parkdale Hookers Christmas Time
Download the free MP3 of the long rumoured digital remaster of the punk holiday favourite "Have a Parkdale Hookers Christmas Time"! The perfect holiday tune which isn't too, well, "Christmas-y" if you know what we mean. One reviewer called it "Bing Crosby fronting Motorhead". continue
Posted by The Noise Comments Off on Sat. Nov. 3, 2012 10pm: Live at The Sister (formerly Mitzi's) with Maryanne's UFO & Garage Baby
This coming Saturday we'll be playing with one of our fav bands: Garage Baby. They always bring a killer show. Needless to say, we're stoked. We'll be on sharply at 10pm, followed by Maryanne's UFO at 11, with Garage Baby kicking the place at 12pm.
Don't miss it!
Posted by The Noise Comments Off on TPH live @ NXNE 2012: June 13 @ 11pm
We'll it's that time of year when break out the powerpoints, and get ready to kick out the punk at North by Northeast.
We'll be at the Velvet Underground for a tight set starting sharply at 11pm
More details to follow!
Category : Dates | News | Blog
Posted by The Noise Comments Off on The Final Mixdown
So it's official. The new CD will be mixed down next week at Jukasa Studios with the infamous Nick Blagona at the helm. (Check out his site: he's done some pretty impressive tracks!) We're apparently going to be using some pretty infamous gear as well, but more on that  when we actually get there. Mark J and myself will be up in The Six Nations Indian Reservation in Southern Ontario where the studios are located.
To say the least, we're pretty F,ckn stoked!
So let's hope we're on track for a summer release of the new CD!
Much thanks to Eric Rats for getting us this far!
HAVE A PARKDALE HOOKERS CHRISTMAS TIME
by The Parkdale Hookers
Yes on the news it Christmas time
You're gonna get the blues, it's Christmas time
You're gonna have some fun, it's Christmas time
You better call your mom, it's Christmas time continue
Posted by The Noise Comments Off on Way cool axe's at Eastwood Guitars
I've never been a big fan of Statocasters, or Strat like guitars. While I do appreciate their fine quality,  overall I always found them lacking personality.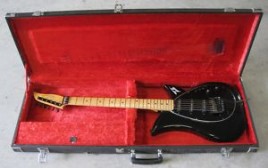 I've always gravitated to unusual guitars like Vox's, or my Tokai Talbo Blazing Fire, a cast aluminum guitar from Japan that I picked up for a steal way back in the late 80s. (I've been playing a rare 1972 Ibanez Artist bass I found used at Capsule Music, it was only in the catalogs for about 2 years).
That's why I was so pleased to stumble across Eastwood Guitars, a company recreating the more unusual vintage axes from the 60's and 70's. Many of these were carried by Sears or Woolworths. If you've ever tried any of the originals, you'll know that many of them were, uh, less than "the creme of the crop" in terms of playability and quality.
Posted by The Noise Comments Off on Are you a Musician? Best. Website. Ever.
I heard about this website on a favourite Podcast I never miss: Inside Home Recording.
They mentioned this website and it has sucked my life away:
Bobby Owinski's Big Picture Blog
This very knowledgeable fellow has posted RAW tracks from famous recordings. For instance today he features the isolated bass track from the Beatles "While my guitar gently weeks". A fascinating behind the scenes look into the playing of one of modern music's masters. Educational and inspiring.
Tons of insightful articles on music, musicianship and just about every thing else music related as well. If you're involved in creating music for fun or for profit, this is a site to open every morning (I do).
Please Note: This site will suck up all your available time, so use caution when visiting. He's taken days from me — damn him — sure hope he don't quit.
Posted by The Noise Comments Off on Sing along with the Hookers
By special request, you can find the lyrics for "Have a Parkdale Hookers Christmas Time" in the Lyrics section.