Posted by The Noise Comments Off on Mixing the new CD – Day 1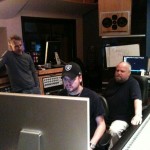 So Mark J and myself drove up from Toronto on a rainy Sunday morning. Mark C wasn't able to come along due to scheduling conflicts but will be there in sprit if not in Skype.  Jukasa studios are located deep within The Six Nations Indian Reservation in Southern Ontario. A location whose beauty I didn't realized till I walked over to the small restaurant across the street this morning. continue
Posted by markjr Comments Off on Most Guitar Solos are Unnecessary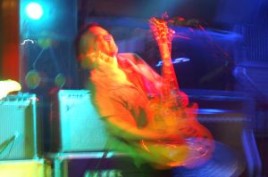 This may sound odd, coming from a guitarist, but it's true: upward of 90% of all guitar solos ever recorded are unnecessary, add nothing to the song and in many cases actually detract from the music.
Alas, guitar solos (and their purveyors: guitarists) can be loosely analogous to commercials flogged by ad agencies. Many of them are created for the singular purpose of gratifying their creators and (ostensibly) to demo their virtuosity.
Rarely does it happen that a guitar solo can be a building block to a song. Most of them are pure wankfests. continue
Posted by The Noise Comments Off on Way cool axe's at Eastwood Guitars
I've never been a big fan of Statocasters, or Strat like guitars. While I do appreciate their fine quality,  overall I always found them lacking personality.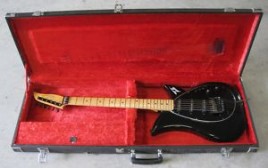 I've always gravitated to unusual guitars like Vox's, or my Tokai Talbo Blazing Fire, a cast aluminum guitar from Japan that I picked up for a steal way back in the late 80s. (I've been playing a rare 1972 Ibanez Artist bass I found used at Capsule Music, it was only in the catalogs for about 2 years).
That's why I was so pleased to stumble across Eastwood Guitars, a company recreating the more unusual vintage axes from the 60's and 70's. Many of these were carried by Sears or Woolworths. If you've ever tried any of the originals, you'll know that many of them were, uh, less than "the creme of the crop" in terms of playability and quality.
Posted by The Noise Comments Off on Are you a Musician? Best. Website. Ever.
I heard about this website on a favourite Podcast I never miss: Inside Home Recording.
They mentioned this website and it has sucked my life away:
Bobby Owinski's Big Picture Blog
This very knowledgeable fellow has posted RAW tracks from famous recordings. For instance today he features the isolated bass track from the Beatles "While my guitar gently weeks". A fascinating behind the scenes look into the playing of one of modern music's masters. Educational and inspiring.
Tons of insightful articles on music, musicianship and just about every thing else music related as well. If you're involved in creating music for fun or for profit, this is a site to open every morning (I do).
Please Note: This site will suck up all your available time, so use caution when visiting. He's taken days from me — damn him — sure hope he don't quit.
Posted by The Noise Comments Off on Sing along with the Hookers
By special request, you can find the lyrics for "Have a Parkdale Hookers Christmas Time" in the Lyrics section.
Posted by The Noise Comments Off on Vespa Music: day two
Been great so far. The engineer is great and we're getting some great sounds. It'll be fun to top off the night with NXNE! continue
Well,
The Axl Rose solo band have finally decided to start paying some of their bills, rather than continuing to live with the distinction of most downloaded, and watched on YouTube, for free. As a fan from the days before Appetite for Destruction was a hit record, let me be straight. All those who have decided Chinese Democracy is not "Guns and Roses", you are all continue
Any musician or band worth their salt these days needs to have a web presence and a good understanding of what brings people to their site and how people can find them on this ever growing world wide web.
A great resource on such topics and well as others in the Social Media Driven Marketing World is one of my favourite podcasts called "The Marketing Edge"
Today (well, at least thats when I listened to it) continue