Global Markets Reeling as Punk Band in Tatters
/Toronto tPH Newswire/ – The Parkdale Hookers are no more. The stunning announcement out of Toronto has global markets in jitters as news filters out from the headquarters of the secretive hedge fund and punk rock group.
The Board of Directors has ousted the top executives and regulators are scrambling to decipher the complex web of business entities and financial derivatives the group may or may not have controlled.
Not a single member of the group was available for comment:
CFO and drummer Mark Collins has apparently already moved on, now acting in an EVP capacity for a large publicly traded technology company. According to a terse press release issued by a PR firm known to have represented Collins in the past, "He is under NDA and cannot name his employer. Mr. Collins is no longer a member of tPH International and has divested all of his shareholdings."
Phil Emery has surfaced as co-host on Ryerson's Songtalk radio and contrary to a recent twitter rumour will not be hosting the 2015 Oscars.
CEO Mark Jeftovic has reportedly left the country. A Dutch expat near Roca Milagro, Panama related stories to local reporters that the ostensible frontman is "out there, somewhere", gesturing toward the jungle. "He is hopped up on nootropic brain enhancers and holed up with guns, a bitcoin wallet and about a half tonne of tinned food. He will not talk about the Hookers. All he talks about is 'the impending collapse of the global financial system'".
With the unsigned rock group being counter-party to an estimated 92 trillion dollars of complex derivatives, credit default swaps and leveraged futures, financial commentators wonder if that is a self-fulfilling prophecy….
Related Video: The Parkdale Hookers, Multi-Media World
Posted by The Noise Comments Off on The Story Behind "Echo Bubble Overdrive"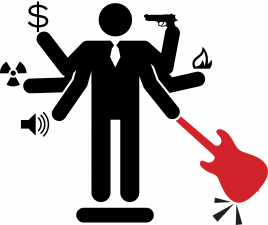 The Parkdale Hookers International Inc. (a.k.a "The Parkdale Hookers") is a Toronto-based business conglomerate, hedge fund and alternative rock group. The group formed in 2001 with the founding members, Noise (Chief Marketing Officer), Mark Jeftovic (CEO) and ex-Landslide drummer Dan Miles.
After Miles left the group in 2004 to take a position in Jim Flaherty's Ministry of Finance, Mark C replaced him on drums. MC has recently stepped back to spend more time with his family.
In 2005 the group released Polyester Fire Starter, a 5-song EP that was released under a Creative-Commons License.
In 2010 tPH entered the novelty song space with their release of "Have A Parkdale Hookers Christmas Time", which was featured on CBC and elsewhere and has become a perennial favorite among bohemians and disaffected families around the holiday season.
Echo Bubble Overdrive is the long-awaited follow-up album to PFS. Recorded at Toronto's Vespa Music Studio, the 7-song EP was engineered by none other than Juno Award winner Eric Ratz (Billy Talent, Big Wreck, Cancer Bats) over the period of 2011-2013. It was mixed at Jukasa Sound Studios by Nick Blagona (The Police, Deep Purple, ALEXISONFIRE). Ratz also mixed the lead video for EBO "MultiMedia World". continue
Posted by The Noise Comments Off on TPH live @ NXNE 2012: June 13 @ 11pm
We'll it's that time of year when break out the powerpoints, and get ready to kick out the punk at North by Northeast.
We'll be at the Velvet Underground for a tight set starting sharply at 11pm
More details to follow!
Category : Dates | News | Blog
Posted by The Noise Comments Off on The Final Mixdown
So it's official. The new CD will be mixed down next week at Jukasa Studios with the infamous Nick Blagona at the helm. (Check out his site: he's done some pretty impressive tracks!) We're apparently going to be using some pretty infamous gear as well, but more on that  when we actually get there. Mark J and myself will be up in The Six Nations Indian Reservation in Southern Ontario where the studios are located.
To say the least, we're pretty F,ckn stoked!
So let's hope we're on track for a summer release of the new CD!
Much thanks to Eric Rats for getting us this far!
Posted by The Noise Comments Off on The New CD: The beds are all done
Well, we managed to knock off 8 songs at Johns Green Door Studios.
'Still have some guitar overdubs to do and I think I want to re-do a bass track, but overall, we got quite a bit done for two sessions of 8 hours. It's nice not being in the studio for 13 hours – always felt like a bag of S*** after one of those marathon days. It has been a long time since I was able to spend two full days in a row playing – not bad work if you can get it.
As always, our host, John was surprisingly easy going considering the 8:00 am start times!
Now – time to start the NXNE stuff!
Posted by The Noise Comments Off on Recording the new CD: end of session 1
Well, we got quite a bit done today – 6 beds down, we'll do the remaining 2 tomorrow and then the overdubs.
We haven't picked the dates when we'll do the vocals – that will be a couple of weeks once all the flu will have exited my lungs – still hangin on.
The next session will be tomorrow at 9:00 a.m.
pictures and videos to follow
Posted by The Noise Comments Off on The New CD: Session 1: 8am in the studio
So after much changing of schedules we finally roll into John Critchley's Green Door studios today at 8am. Mark C is there now loading the drums in and starting to develop the drum sounds. I'll be getting there in a bit (it's just down the street from me).
Many thanks go out to John for putting up with our corporate time tables for this one – he's not used to starting at such an ungodly hour!
Posted by The Noise Comments Off on The Parkdale Hookers invited to play NXNE 2009
NXNE has invited The Parkdale Hookers to play this years North By NorthEast Festival in Toronto, Canada.
The show is schedualed for June 20th @ 9:00pm at the Black Bull.
More details will be available once the legal department has crossed all appropriate "T"s  and the appropriate "i" s.
Posted by The Noise Comments Off on Hear the CBC Interview
Now you can hear the CBC Radio interview with Mark J, and Mark C on the ever crumbling economy.
Posted by The Noise Comments Off on Breaking News!