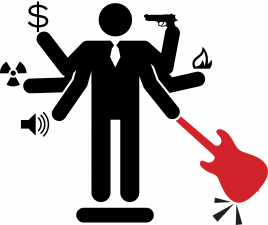 The Parkdale Hookers International Inc. (a.k.a "The Parkdale Hookers") is a Toronto-based business conglomerate, hedge fund and alternative rock group. The group formed in 2001 with the founding members, Noise (Chief Marketing Officer), Mark Jeftovic (CEO) and ex-Landslide drummer Dan Miles.
After Miles left the group in 2004 to take a position in Jim Flaherty's Ministry of Finance, Mark C replaced him on drums. MC has recently stepped back to spend more time with his family.
In 2005 the group released Polyester Fire Starter, a 5-song EP that was released under a Creative-Commons License.
In 2010 tPH entered the novelty song space with their release of "Have A Parkdale Hookers Christmas Time", which was featured on CBC and elsewhere and has become a perennial favorite among bohemians and disaffected families around the holiday season.
Echo Bubble Overdrive is the long-awaited follow-up album to PFS. Recorded at Toronto's Vespa Music Studio, the 7-song EP was engineered by none other than Juno Award winner Eric Ratz (Billy Talent, Big Wreck, Cancer Bats) over the period of 2011-2013. It was mixed at Jukasa Sound Studios by Nick Blagona (The Police, Deep Purple, ALEXISONFIRE). Ratz also mixed the lead video for EBO "MultiMedia World".
The 7-song record continues the tPH tradition of power-punk, alternative rock genre. The lead-off single is an anti-establishment punk-anthem Multi-Media World.
The Multi-Media World video is viewable at the URL:
https://parkdalehookers.ca/mmworld/
Complete track list for Echo Bubble Overdrive follows:
1) Multi Media World
2) Are You Lonely
3) Beamer On A Cell Phone (*explicit lyric warning)
4) Little Angel
5) Blue Monday (New Order cover)
6) Best Friend
7) Don't Tell Me
Both the Multi-Media World single and Echo Bubble Overdrive album are available via iTunes, fine digital music services everywhere, and can be purchased with Bitcoin at https://parkdalehookers.ca
Media and Airplay Inquiries: pimp@parkdalehookers.ca