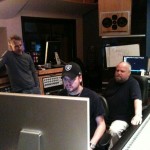 So Mark J and myself drove up from Toronto on a rainy Sunday morning. Mark C wasn't able to come along due to scheduling conflicts but will be there in sprit if not in Skype.  Jukasa studios are located deep within The Six Nations Indian Reservation in Southern Ontario. A location whose beauty I didn't realized till I walked over to the small restaurant across the street this morning.
The studio comes complete with accommodations (and a swimming pool and golf course when the weather is better) so that's where I'll be camping out for the next few days.
We're mixing with the infamous Nick Blagona (take a gander at his discography here). Watching him work is simply amazing. Everything seems so effortless, which makes sense considering he's released more hits than I've heard in my entire life. He looks like he could be just browsing the web instead of carving our sonic rivers for our CD, quite different than the tweaking from other mixers we've worked with. I imagine all the mixers will appear to work with such grace once they've tracked the same count as Nick.
It's great to pick the brain of someone who started his career when 4 tracks where the bleeding edge but is still a master of the latest digital processes (he uses many plugins that have been custom coded for him)/ Lots of great stories from the golden age of the Police, Deep Purple, The Tea Party — I'm afraid we must be a little dull in comparison.
We got 3 mixes done yesterday, heck that was from 12noon till about 8pm! We're hoping to get 3 or 4 done today.
Sounding great and we're having a blast!