Global Markets Reeling as Punk Band in Tatters
/Toronto tPH Newswire/ – The Parkdale Hookers are no more. The stunning announcement out of Toronto has global markets in jitters as news filters out from the headquarters of the secretive hedge fund and punk rock group.
The Board of Directors has ousted the top executives and regulators are scrambling to decipher the complex web of business entities and financial derivatives the group may or may not have controlled.
Not a single member of the group was available for comment:
CFO and drummer Mark Collins has apparently already moved on, now acting in an EVP capacity for a large publicly traded technology company. According to a terse press release issued by a PR firm known to have represented Collins in the past, "He is under NDA and cannot name his employer. Mr. Collins is no longer a member of tPH International and has divested all of his shareholdings."
Phil Emery has surfaced as co-host on Ryerson's Songtalk radio and contrary to a recent twitter rumour will not be hosting the 2015 Oscars.
CEO Mark Jeftovic has reportedly left the country. A Dutch expat near Roca Milagro, Panama related stories to local reporters that the ostensible frontman is "out there, somewhere", gesturing toward the jungle. "He is hopped up on nootropic brain enhancers and holed up with guns, a bitcoin wallet and about a half tonne of tinned food. He will not talk about the Hookers. All he talks about is 'the impending collapse of the global financial system'".
With the unsigned rock group being counter-party to an estimated 92 trillion dollars of complex derivatives, credit default swaps and leveraged futures, financial commentators wonder if that is a self-fulfilling prophecy….
Related Video: The Parkdale Hookers, Multi-Media World
Posted by markjr Comments Off on Most Guitar Solos are Unnecessary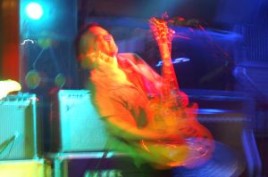 This may sound odd, coming from a guitarist, but it's true: upward of 90% of all guitar solos ever recorded are unnecessary, add nothing to the song and in many cases actually detract from the music.
Alas, guitar solos (and their purveyors: guitarists) can be loosely analogous to commercials flogged by ad agencies. Many of them are created for the singular purpose of gratifying their creators and (ostensibly) to demo their virtuosity.
Rarely does it happen that a guitar solo can be a building block to a song. Most of them are pure wankfests. continue
Noise is a very smart bass player. He said last year "if we record a Christmas song, it'll get played every year as DJ's and podcasters scramble for anything Christmas-like for their Christmas shows", so we recorded Have a Parkdale Hookers Christmas Time last year which was today selected as CBC Radio3's New Music Canada Track of the Day
Good work Phil. Take the rest of the day off.
…even if you're not a drummer.
9V batteries
a power cable and adapter
a drum key
pliers
a roll of toilet paper (don't ask)
guitar strings of the proper gauge for every member of your band
drum sticks
duct tape
blank CDW's (most sound boards can burn the stage sound straight to disk these days)
….the current gig's set list
Posted by markjr Comments Off on Canadian Heritage on "The Future of the Canadian Music Industry"
Canadian Heritage has just released their Report on the Canadian Music Industry and finds (surprise) that things are quite a bit different from the imminent collapse of civilization routinely predicted by the major label sock puppets at the Canadian Recording Industry Association.
It is nice to feel vindicated by this report. Although being a nobody in the music industry, I take a certain pride in having made certain calls about where things are going and being right about it.
A long time ago I said:
continue
Posted by markjr Comments Off on Have a Parkdale Hookers Christmas
Direct from the band and just in time for the holidays, feast your ears on Have A Parkdale Hookers Christmas, think Motorhead fronted by Bing Crosby.
We recorded this song at Green Door Sound, where we started practicing this year. John Critchley, who runs the studio, was behind the board and we have to say, we've never been happier. This is probably the best sound I have ever come out of a studio with. Sounds like I had a wall of Marshalls in my pocket.
Anyway, have a Parkdale Hookers Christmas Time and enjoy.
Posted by markjr Comments Off on How to neutralize the RIAA for $19
Absolutely brilliant via Boing Boing:
P2P insurer will pay your fines if RIAA sues: $19/year!
"Apparently, a company in Sweden is offering file-sharing insurance – they'll pay your fines if you're sued by the RIAA. The /. submitter translates the link as follows: 'For a mere 140 SEK ($19 USD) per year, they will pay all your fines and give you a t-shirt if you get convicted for file sharing.'"